The Kings and Prince Ragdolls of Rags 2 Dazzle Ragdolls
RW QGCH. Rags2Dazzle Mench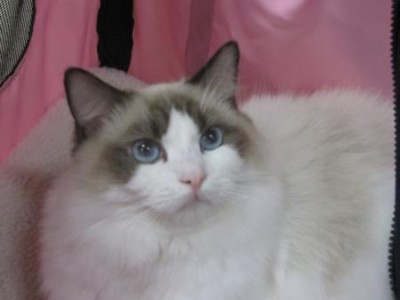 TICA – RW Quadruple Grand Ch. Rags2Dazzle Mench
Best Seal Point Bicolor Ragdoll 2010-2011 TICA S E Region
TICA RW 16th Best All Breed Long Haired Cat S E Region 2010-2011
CFA 2nd Best Ragdoll Kitten Southern Region 2010-2011
Menchie is our home grown boy. He is a fabulous seal bi color boy with deep deep blue eyes and we are very proud of the way he had adapted to show life. He is a very sweet, loving boy and we hope that he will have a successful show career before he settles down to making stunning babies. Mench also has a stunningly handsome brother Benyamin who is living the life of riley with his new breeder Mommy in Mexico and being shown in TICA. Update 4/6/12 – Mench told me after he became a Quadruple Grand Champion that he would like to stay home and breed his girlfriends as he was bored with going to cat shows. We are very excited to see what his 2nd litter sired will look like. They are due this month. His first litter produced some stunning kittens, 3 of which are with my other ragdoll breeder friends as show breeders in Florida and 1 has gone up North as a show breeder. Mench hopes they do as well as he did.

TICA RW GC Ice Princess Jaiwin
Cream Point Bicolor
TICA RW SE Region Best Cream Bicolor RAGDOLL 2019-2020
2nd Best Cream Bicolor Ragdoll Internationally 2019-2020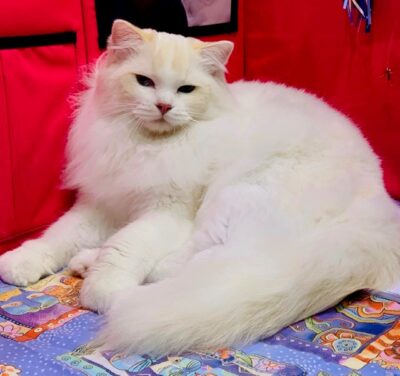 Jai came to us all the way from Slovakia!
We would like to thank Denisa for entrusting this beautiful boy to us. He is the epitome of a true RAGDOLL, floppy, laid back and playful. We didn't get to finish the show season (2019-2020) out this year but are very proud of his achievements as he not only gained a Regional Win as Best Cream Point Bicolor but also was placed as 2nd Best Cream Point Bicolor Internationally.
Jai has decided his show career is over and we now hope he produces many babies with his loving and friendly disposition.

RaggleDazzle Lord Georgie of Rags2Dazzle
RW. Grand Premier CH – CFA
Supreme Grand CHA  Alter- TICA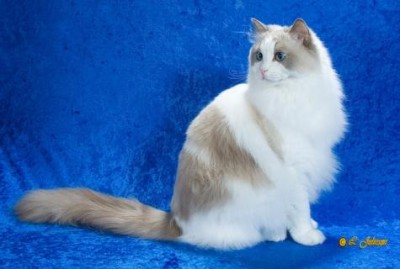 Best Supreme Ragdoll Alter – TICA S.E Region 2010-2011
Best Supreme GCA Ragdoll – TICA S.E Region 2010-2011
Best Ragdoll Grand Premier – CFA Southern Region 2009-2010
Best Ragdoll Grand Premier – CFA Southern Region 2008-2009
2ndBest National Ragdoll Grand Premier – CFA 2009-2010
3rd Best National Ragdoll Grand Premier – CFA 2008-2009
14th Best All Breed Regional Winner – CFA Southern Region 2009-2010
14th Best All Breed Regional Winner – CFA Southern Region 2008-2009
5th Best Long Haired All Breed Premier at the show-CFA International 2008-2009

At the end of the CFA show seasons for 2009 – 2010 and the previous year 2008-2009, Georgie repeated the following:
Best Ragdoll Grand Premier – Southern Region.
RW 14th Best Regional All Breed Grand Premier Winner Southern Region.
3rd Best National Ragdoll Grand Premier.
Lord Georgie is a stunning blue point bi color ragdoll boy. His father is RaggleDazzle Blue Boy a Grand Champion. Georgie should really be called Prince Georgie as he expects everyone to wait on him!! Here he is at 13 months old waiting to rise to Prince status. Georgie is a perfect example of our cats and kittens at Rags2Dazzle Ragdoll Cattery. I thank my lucky stars for having such a pretty boy who is the love of my life. Georgie is now retired from showing and has remained at home with us although he still thinks he is the Lord of the Manor!!
Considering 2008 was the first year we had taken him to the shows, we were extremely happy and proud of his achievements for the 2009-2010 season and this last 2010-2011 season. Georgie has now decided he wants to retire and just loll around the house and we are happy to let him do this.
Well done my lovely boy, we are so proud of you.

QGC Rags2Dazzle Louis V Ragsbdazzled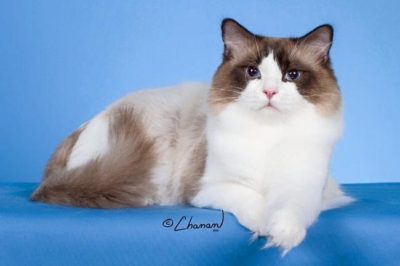 Louis is a year old and has attained the title of Triple Grand Champion. He wants to beat his grandfather Mench who is a QGC
And we think he will!!
Our new Prince has sired his first litter and his kittens are beautiful.
He is the last son of Arianna so we have 2 of her children to carry on her lines.

GCH. Rags2riches Lord Nicolai of Rags2Dazzle
CFA – Grand Champion & TICA Quad Grand Champion Alter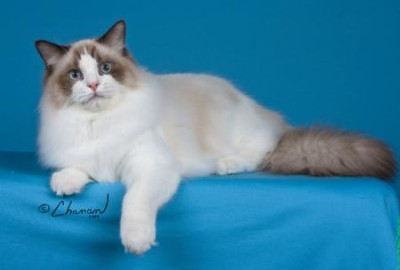 Best Ragdoll Kitten Southern Region – 2008-2009
3rd Best National Ragdoll Kitten – 2008-2009
3rd Best Ragdoll Grand Champion Southern Region – 2008-2009
6th Best National Ragdoll Champion – 2008-2009
2nd Best Ragdoll Grand Champion – CFA International 2008
He is an incredible Seal Point Bi Color boy. I took one look into this baby's eyes and instantly fell in love. How could I not fall in love with this little fella!! Nicolai arrived in April 08 and quickly made himself at home. He decided to make friends with Olivia first, as she is in charge of her 4 kittens and he knows when they are old enough to play with him he will teach them every trick in the book. Olivia has taken him under her wing and told all our crew to treat him nicely or they will have to contend with her. He is now 3 years old and has grown very big and is absolutely stunning. I cannot wait to take him to more cat shows to see if he can beat his Dad.
I must thank Scottie Cone of Rags2Riches once again for allowing me to have this unbelievable boy, he is a fantastic addition to Rags2Dazzle Cattery.
More news – Nicolai became a Grand Champion at the CFA International Cat Show in Atlanta this September 08 and also took the 2nd Best Ragdoll Champion award. Way to go Nicolai.
Nick became a TICA Quadruple Grand Champion alter recently and has now retired and gone to live with my very good friend Beverly and his ragdoll friends in her kitty palace. I know he will be spoiled rotten!!

Premier Ch. SeaFox Prince Dagda of Rags2Dazzle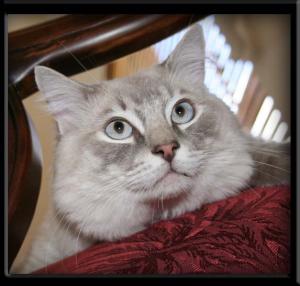 Prince DAGDA is our beautiful King. He is a blue mitted lynx and has the most stunning eyes. Thank you Julie for producing these 2 oh so sweet babies.

CH Rags2dazzle Lord Rob Roy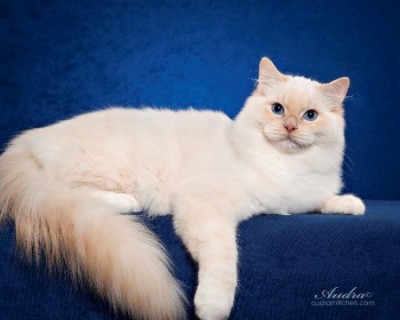 TICA Award of Excellence
2015-2016 Best Cream Point Mitted Ragdoll of the year Internationally
Rob Roy is a gorgeous cream point mitted boy. Rob Roy is the son of Danni and Manny and is a perfect example of what a ragdoll should be. He is a large big boned smooshy boy, with a bunny like coat, who loves to be cuddled and we hope he will be an excellent addition to our breeding program. He is floppy just as a ragdoll should be and he loves to be cuddled. He is one of the most affectionate boys we have bred and we are hoping for some magnificent babies from him. He told me to leave him at home when I go to the shows as he doesn't like the show halls and gets scared of the other cats.

SGCH. Saskia of Rags2Dazzle
a.k.a. SASHA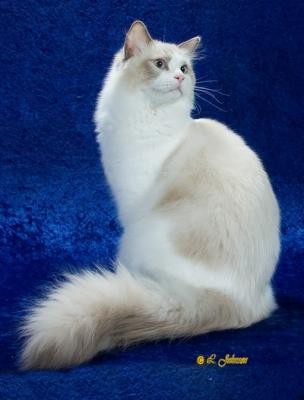 Sasha is also our home grown boy who is a blue bi color. His mom is our beautiful CH. Lady Olivia and his dad is again from our dear friend Joyce's CH. Ace in the Hole, a stunning blue bi color gentleman. Sasha is a big truly floppy ragdoll who loves to be petted and is our purr meister. I call him Mr. Flopalong because he flops at my feet to have him tummy rubbed. The cat shows are his forte where he rolls over in the ring for the judges and does anything he can to be naughty. When the audience laughs he does whatever he is doing more!! We are hoping for good things from him in the future and also fabulous kittens.
Update 10/25/2011
Sasha has become a Supreme Grand Champion in TICA and has caught up with Georgie and overtaken Mench. Well done my precious boy.

GCH. Marlcreek My Revenge of Rags2dazzle
a.k.a Revi
Revi arrived from my good friend Charmayne in Canada. He is 4 months old in this photo and already weighs 7lbs. Revi is a seal bi color and the sweetest of boys. He is the sweetest of sweet kittens and loves to be held, stroked, purrs like crazy and has exceptional boning as well as size. He went to his first CFA show this weekend and despite feeling a little under the weather was a real trouper and took several rings and had his first final and Rosette. We have high hopes for our beautiful, cuddly new boy and would like to thank Charmayne to entrusting her love of her life to us.
Update 12/20/2011 Revi is now a Chamion in both TICA and CFA and is now also a proudy Daddy of three litters. Watch our for his daughters Samantha and Ruthie to see how they do at the shows.

QGC Sunnyshores Henry of Rags2dazzle
TICA Award of Excellence 2017-2018 Southeast Region
Best Blue Lynx Point Bicolor Ragdoll
Henry is a very sweet and loving blue Lynx bicolor boy
He loves to go to the cat shows and likes to display to the judges exactly what a ragdoll should be as he flops around on the judges table. At his first adult cat show last month he became a Champion and was one final short of becoming a Grand Champion. Thank you Rachel. We are very proud of him and just love him to madness!

USAPurrs Maximillion of Rags2dazzle
100% Traditional lines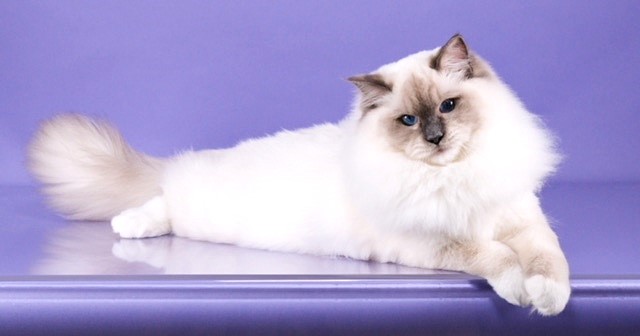 TICA Award of Excellence 2017-2018 Southeast Region
Third Best Blue Point/Mitted Ragdoll
Max well what can I say. Floppy doesn't describe him. He is a fabulous blue mitted boy who plays hard and sleeps hard. I call him double trouble because he is my shadow and follows me like a puppy dog. He went to his first kitten ten show last month with his partner in crime Jaxson and did very well. Thank you Brianne for this cute boy