Rags2Dazzle is a small Ragdoll Cattery Based in TN
and provides Ragdoll Love to the surrounding
States of AL, GA, FL, KY, SC & NC.
About 9 years ago my sister purchased three Ragdoll Kittens, Willem is a Seal Point Lynx, Yogi and Pebbles are both Seal Point Mitted. (Yogi was a Show/Alter and did very well). I instantly fell in love with these kittens. They were so laid back and friendly and I couldn't believe the way they followed you around, just like a dog!!
After doing a lot of research, we purchased our first Ragdoll kittens from Julie Stalnaker at Sea Fox Cattery, Florida. I was looking for a Blue mitted Lynx and she had two brothers. My daughters came with me and my eldest decided she wanted to adopt one too. As soon as I saw Dagda it was love at first sight. Prince Dagda has the bluest eyes and is the sweetest natured cat I have ever owned. He won my heart over in a very short time. His brother Prince Harry is a Blue Point Lynx and likes to think he is King at Rags2Dazzle Cattery, but really Dagda is.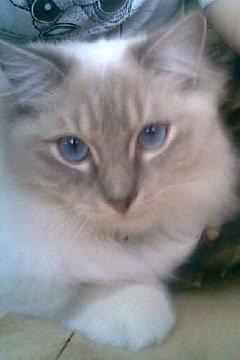 Premier CH. Prince Dagda

Because I fell in love with Dagda, I decided he needed a female companion and the same year acquired Lady Eloise (Lulu) as we affectionately call her. Lulu is a Seal mitted Tortie Ragdoll and she is Queen Bee of the cattery. Many thanks to Charmayne for breeding such a delightful girl. She is now retired but still acts like the mother to some of our newer additions. Lulu is the Matriarch of Rags2Dazzle Cattery.

With the start of our Cattery was on it's way, we also acquired Lord Georgie, Lady Jasmin, and Lady Olivia throughout 2007.
In January 07, Rags2dazzle collected Lord Georgie from his breeder. He is the most beautiful Blue Bi Color Point Ragdoll boy, with the deepest blue eyes I have ever seen. He is doing wonderfully with the rest of the crew, although he is the most stubborn one of the bunch. He should really behave as his Championship blood lines indicate, but there's no stopping Georgie once he sets his mind to something. Update 3/2/08 Georgie attended his first CFA Cat Show this week-end and won his first title. He is now a Premier Champion and will be continuing to attain his Grand Premier title. Update 5/12/08 – Great news Georgie took 2nd place in the CFA Regional Premier Championship placements, he also became our first Grand Premier in the same month. Wow – Georgie has done it again – At the CFA International Cat Showin November 08, Georgie was awarded Best Grand Premier Ragdoll, also out of 791 cats he was awarded 5th Best Long Haired All Breed Premier at the show. Update 6/26/2011.
Lord Georgie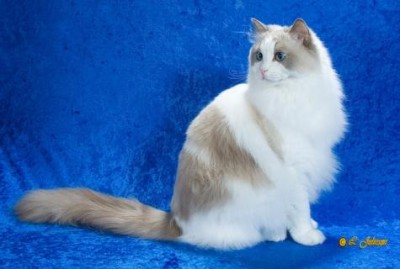 CFA – RW Grand Premier Champion
TICA – Supreme Grand Champion Alter
Georgie has achieved the following results:
Supreme Grand Champion Alter – TICA 2011
Best Supreme GCA Ragdoll – TICA
S.E Region 2010-2011
At the end of the CFA show seasons for 2009 – 2010 and the previous year 2008-2009, Georgie repeated the following:
Best Ragdoll Grand Premier – Southern Region.
RW 14th Best Regional All Breed Grand Premier Winner Southern Region.
3rd Best National Ragdoll Grand Premier.
Considering 2008 was the first year we had taken him to the shows, we were extremely happy and proud of his achievements for the 2009-2010 season and this last 2010-2011 season. Georgie has now decided he wants to retire and just loll around the house and we are happy to let him do this.
Well done my lovely boy, we are so proud of you.
I swore to myself I wouldn't be tempted and then …. How could I not fall in love with this little fella!! Nicolai arrived in April 08 and quickly made himself at home.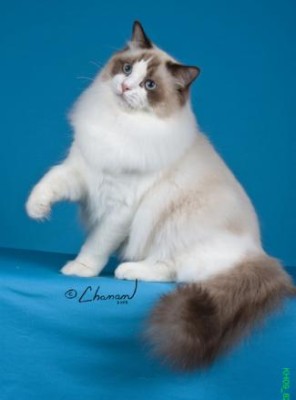 CFA – Grand Champion & TICA Quad Grand Champion Alter
Lord Nicolai 8 months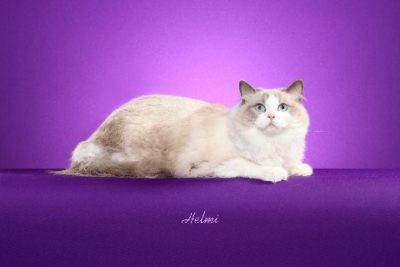 CH Rags2dazzle Gabriella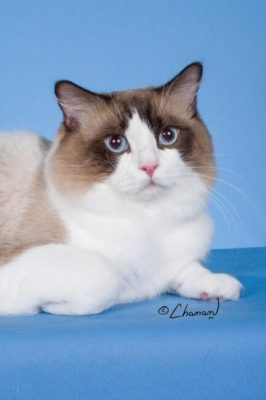 QGC Rags2Dazzle Louis V Ragsbdazzled
One year old.
We've had a few additions to our Family over the years. Adopted and Born. All have been a joy and you will see their personalities shine through in their pictures on the Lords and Ladies Pages!
Rags2Dazzle Ragdoll Cattery now feels we have the right breeding cats and kittens, who are not closely related and therefore there should be no negative impacts to their future kittens. We offer Ragdoll Kittens who are in good health, have the sweetest faces, are high in intelligence and have loving personalities. We have tried to reach the optimum of the Ragdoll Breed Standard, with breeders from Championship lines who have Vivid Blue Eyes, Large Size, Soft Bunny like Coats and wonderful personalities!
Because we care Rags2Dazzle reserves the right to cancel any contract for the purchase of a cat or kitten at any time.