The Queen and Princess Ragdolls of Rags 2 Dazzle Ragdolls
Celticrags Molly of Rags2Dazzle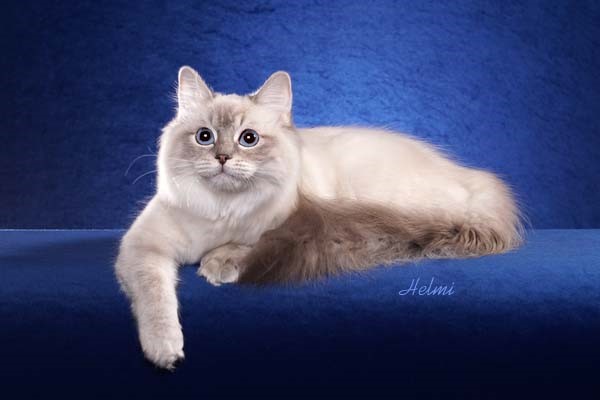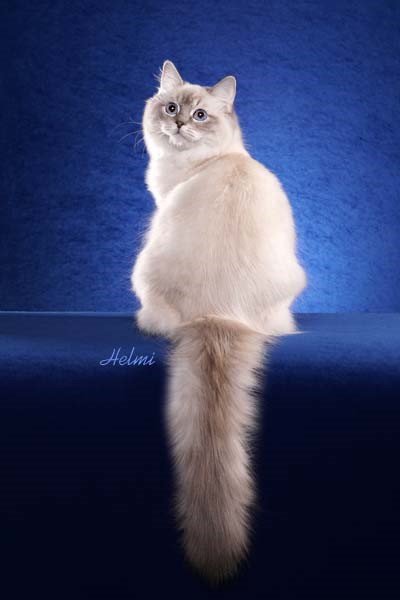 We are really excited to introduce this beautiful blue Lynx point girl
Whom we have named Molly. She loves going to the shows and talks to all the judges
Thank you Janie for this wonderful addition to our cattery.
Watch out for more on Molly

CH Rags2Dazzle Olivia's Legacy Ruthie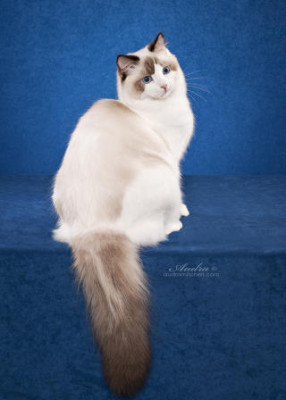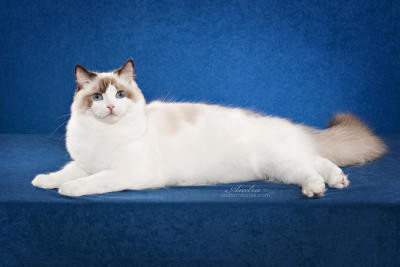 Ruthie is our home grown girl and is a sweet sweet girl. She has the size and boning of a boy and the temperament of a girl, with a bunny like coat and fabulous blue eyes. She is the last of Olivia's kittens hence her name and Olivia's Legacy has definately been carried on by her. Revi is her father and at 6 months old, in the photo, she is the size of an adult cat and not a kitten. Ruthie loves going to the shows and loves all the judges. I told her to keep buttering them up and hopefully she will be our next Supreme.  She is a fantastic mother to her kittens and hopefully after her next litter she will let us take her to the shows again.

CH Rags2dazzle Gabriella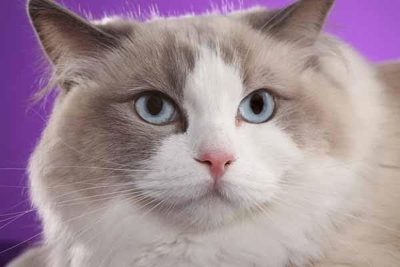 Gabby is a Blue Bi-Color girl. She is the last daughter of Arianna  and she has just become a Mommy!
She is the sweetest of girls and a complete love bug. We are hoping she produces wonderful litters like her Mama!

RW TGC Renas Rags Poppy of Rags2Dazzle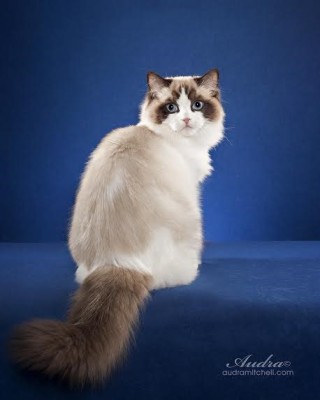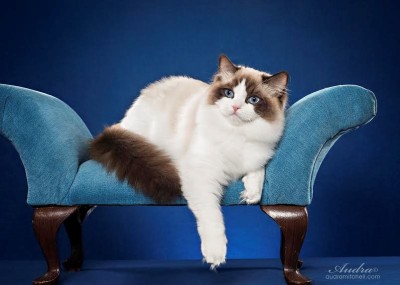 TICA SE Region Award of Excellence 2014
Third Best Ragdoll Kitten Of The Year 2014
Poppy is the result of two kittens,  Rags2Dazzle Jeffie and Rags2Dazzle Josie, I sold to my friend Helen. When she bred them the runt of the litter was Poppy. She is a little biddy girl but is the most mischevious cat I have owned. She has incredible blue eyes and a marvelous coat. She was a scrawny little thing and turned into a beautiful swan.  She had her first litter a month ago and all the kittens were stunning. I just love her to madness.

CH Excaliburcats Kiri R of Rags2dazzle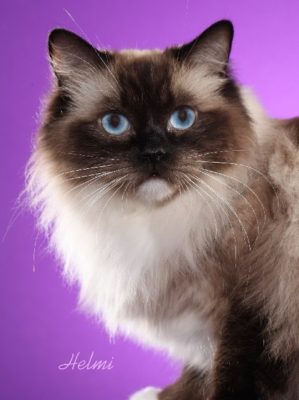 Kiri is a beautiful seal mitted girl
She has very expressive eyes and as you can see from the photos was annoyed with Helmi for making her pose for these photos!!
Kiri has just had her first litter and is being a wonderful Mummy
She has a wonderful coat and is becoming a big girl. Thank you Amanda for entrusting her to us.

DGH Rags2Dazzle Annabelle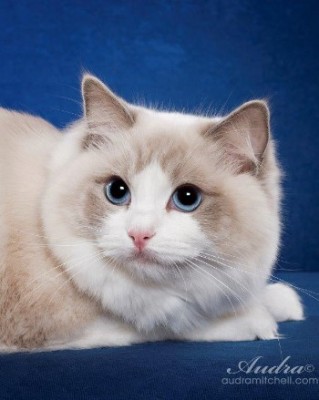 Annabelle has a very laid back personality and loves going to the shows. She is my special girl. She is built like a boy with fabulous boning and coat. We can't wait to see what she produces.

CH Rags2Dazzle Raine Ragsbdazzled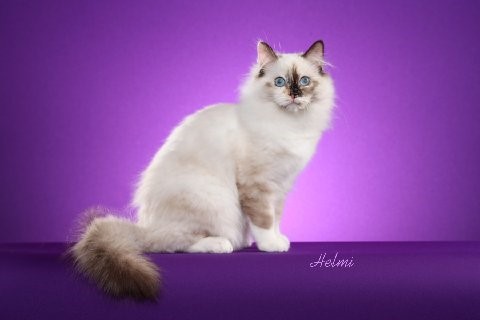 Rags2Dazzle Raine is my daughter's pride and joy. To say she is spoiled is putting it mildly!!
Raine is a seal tortie point mitted girl and being a typical tortie (red head) likes to try and rule the roost.
She is extremely mischievous and into everything.
She is 4 months old in these pictures and loved posing for them.
She will start going to the shows as an adult in September and we can't wait to see her perform for the judges!

QGC Rags2Dazzle Serendipity
Tica Award of Excellence
2012-2013 2nd Best Blue Lynx
Point Bicolor Ragdoll of the year Internationally
Serendipity a.k.a Dippy is a superb blue lynx bicolor girl with very expressive eyes and a very full coat. She definately doesn't take after her angel of a Mommy Natalya, in fact she is my problem child and wherever there's trouble you can count on it that she is right in the middle!! She loves to get under my feet and follows me around like a puppy dog, but I wouldn't change her for all the tea in china, after all who would keep my feet warm at night !! 9/10/12 Dippy has become a Tica Triple Grand Champion and we are so very proud of her. We love you Dippy!

DGC Sunnyshores Daenerys of Rags2Dazzle
aka Danni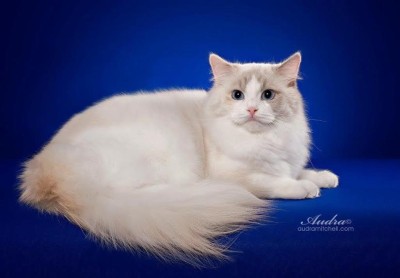 TICA SE Region Award of Excellence 2014-2015,
2nd Best Blue Tortie Point Bicolor Ragdoll Of The Year Internationally 2014-2015
TICA 2nd Best Blue/Cream Bicolor Internationally 2013
Danni is a very special girl. She is a blue/Cream tortie bicolor and is the most sweetest cat. She did very well in her first show and became a Double Grand Champion. She decided she wanted to become a Mommy and last month had a fabulous litter. When she is rested we will take her back out to the shows. She is the Mom to our wonderful Rob Roy. We would like to thank our friend Rachel for this fantastic girl.

GC. Darlinlildol Anya of Rags2Dazzle
a.k.a. Annie
IN MEMORIUM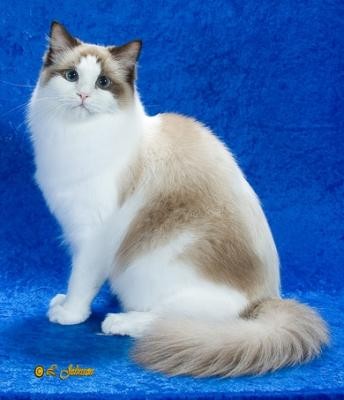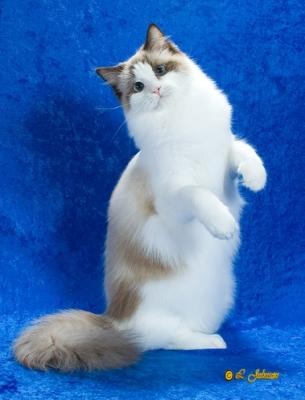 BEST RAGDOLL KITTEN – CFA Southern Region 2009-2010
IN MEMORIUM
December 2008 – June 2011
Annie was my bed mate and licked my face all over, given the chance!! She was my very special girl and the love of my life, my first female Grand Champion. Annie was a fabulous Seal Bi Color Ragdoll with brilliant blue eyes and she had a great time at the shows. She attained her title of Grand Champion quickly and wanted to settle down and have babies. Regretfully that was not to be, and at the young age of 2yrs 6 months she joined my precious Mother, after whom she was named, over the rainbow bridge. I am sure my Mum will give her lots of love and attention and they will look after each other.

QGC Rags2Dazzle Jasmins Last Bebe Sage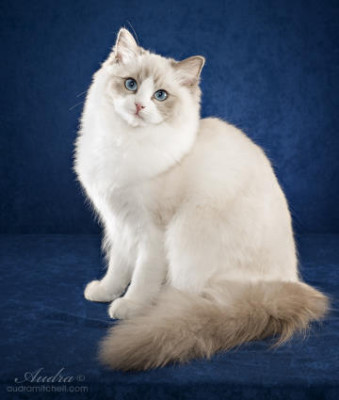 Sage is one of our home grown girls. She is a Blue Bi Color Ragdoll and the last and final kitten from her mother Jasmin. Her father is Murphy again from my good friend Rachel"s cattery and she has gained from both parents their stunning good looks and mischevious personality. We are hoping for great things from our little poser.

CH. Darlinlildol Natalya of Rags2Dazzle
Natalya is a Seal Lynx Bi Color Ragdoll who follows me around like a puppy dog. Natalya is an import from Canada. Natalya is best friends with Arianna and they hang around together and have to go to the shows together. She loves her treats and we are looking forward to having some wonderful kittens from her.Natalya became a Champion in January 2010 and we are going to continue taking her to the shows with Arianna and hopefully had 2 more Grand Champions to our home. Again As the judges say she has the Flash!! Update 06/10/2011 Natalya has just had 2 beautiful kittens called Serendipity and Henrietta, their photos are on this page above.

Excalibur Aphrodite of Rags2Dazzle
aka: Izzy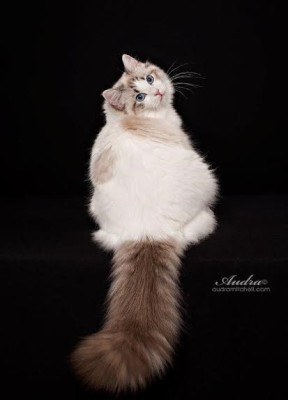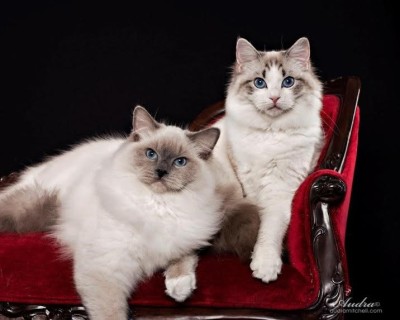 Izzy & Manny
Izzy is a magnificent seal lynx bicolor girl who is the daughter of Mench. She doesn't like showing but is the most wonderful Mother and has produced some stunning kittens for us.

CH. Rags2Riches Lady Olivia of Rags2Dazzle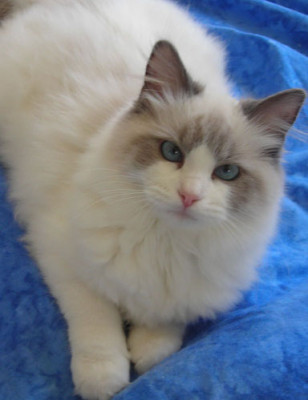 Olivia is an incredible blue bi color girl and has become a Queen with Rag2Dazzle Ragdolls, having her first litter in June 2008. She is a fantastic first time Mom, just look at her son Supreme Grand Champion Saskia on our Lords page. Many thanks to Lora for letting me have her and many many thanks to my mentor Scottie Cone of Rags2Riches for allowing Lora to give her to me and also thank you Scottie for breeding yet another wonderful girl for me to add to my cattery. Olivia's son who is one of our studs has become a Supreme Grand Champion. Update 01/28/2012 Olivia has now been retired and will remain with us. We could not part with our wonderful girl. AND We are proud to announce that Rags2Dazzle Saskia, Olivia's Son has attained the TICA title of Supreme Grand Champion. Well done Olivia on giving us this fabulous boy.
RW SGCH Marlcreek Lil Suzy of Rags2Dazzle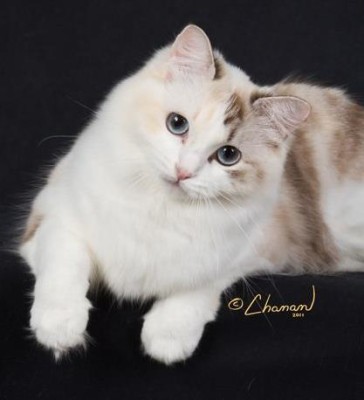 3rd Best Ragdoll 2011-2012 Tica SE Region
Regional Winner 17 Best Long Haired Cat 2011-2012 Tica SE Region
Best Seal Torbie Point Bicolor Ragdoll Internationally 2011-2012 TICA ,
2nd Best Seal Torbie Point Bicolor Ragdoll Internationally 2010-2011 TICA.
Lil Suzy arrived here from Canada and settled in quickly. Suzy Q as we call her, is a seal lynx bi color tortie with the deepest blue eyes I have ever seen. She has grown into the most beautiful teenager with the most stunning face. She has decided to take over the cattery and tries to order everyone around, however, Lulu won't stand for it and often has to put Suzy in her place. Thank you again Charmayne for yet another fantastic ragdoll. Update 1/28/2012 Suzy has become a Supreme Grand Champion and also she and Revi are the proud parents of Samantha aka Sammy whose picture you will find below. Update 5/20/2012 Suzy is not only a RW (Regional Tica Winner) but also she received an International Winner award from TICA for being the Best Seal Torbie Bicolor. Well done my angel we are very proud of you.